KETTLEBELL EXERCISES
PREPARATION PART 3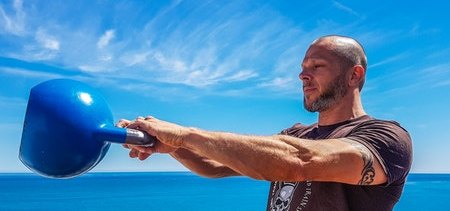 Kettlebell Exercises Preparation Part 3, introduces more dynamic elements to the warm up
NOTE : Before embarking on Preparation 3, please refer to Preparation 1 and Preparation 2,
GENERAL / DYNAMIC WARM UP

A General Warm Up must be performed, before attempting any kettlebell exercises and subsequent exercise routines.
This is important, not only to raise the body's core temperature and further increase the production of Synovial Fluid. But also to pump blood carrying vital nutrients to the muscles within the body for fuel. Therefore enabling you to respond to the physical demands of kettlebell training far more efficiently.
Kettlebell exercises are a multiplaner (multi directional) activity that continuously puts exceptional pressure on all parts of the body in the form of Force Vector Movements.
These movements mimic certain natural or dynamic movement patterns under stress, because of the kettlebells displaced centre of gravity.
Therefore it is only natural that the warm up should include specific functional movements that are relative to the erratic nature of kettlebell exercises.
Below is a sample Dynamic Warm Up that accomodates these areas in preparation for a kettlebell workout.
DYNAMIC WARMUP
1

STEP OUT STEP IN
This is a great exercise to raise the bodies temperature, and gradually increase the speed and reactive responses of the CNS.
Stand facing forward, with your feet a little wider than shoulder width apart. (Neutral Position)

Step forward with left foot, slightly less than a strides length.

On immediate contact with the floor, quickly rebound back to neutral position. As if you just put your foot in a boiling hot bath.

Repeat with right foot from neutral position.

Continue switching from one foot to the other in rapid sucession. Gradually increase the speed and tempo.

NOTE :
Let the body fall forward onto the stepping foot, as this increases the rebound effect
2

SPOTTY DOG
A total body warm up exercise, that helps activate the hip flexors and arm / leg co-ordination. As well as conditioning the upper body.
Stand in a exagerated straight leg lunge position, with left leg in front and right leg behind. With right arm at 90° fist in front of face, and left arm behind also at 90° but fist facing down.

In one move on the spot, simultaneously drive each limb in the opposite direction, so the roles are reversed. eg: left leg behind, left leg in front and right leg in front, right arm behind.

Keeping the arms constantly at 90°, and thrusting the elbows back.

Continue this movement rapidly and constantly, with feet gliding across floor and keeping feet as wide as possible.
3)

GATE STEP OVERS
Freeing up the hip joint is integral to performing any kettlebell workout, and kettlebell execises efficiently.
Gate Stepovers are a simple but effective pre curser in preparation for the Goblet Squat. One of the most important and effective kettlebell exercises to perform.
Standing Square or face on, imagine that there is a 2 foot hurdle to the left side of you.

Raise and move your left leg laterally and step over the imaginary hurdle

Repeat for right leg
5 L+R alternately (10 reps)
4)

LATERAL STEP UNDERS
Step Unders put more emphasis on hip mobility and flexibility, as well as posture through core activation. The adductors (inner thigh), Glutes, Vastus Laturalis (outer thigh) and hamstrings also become involved.
Standing square on, imagine there is a bar to your left about 4 foot high

Side step with your left leg under the bar, keeping your head up and neutral and back straight. Stand tall

Repeat with right leg back
5 L+R alternately (10reps)
5)

SQUATS
From a standing position, feet slightly wider than shoulder width apart. Proceed to bend at the knees and immediately push your backside back into the squat position. Thighs need to be about 180° in a horizontal plane.

Make sure your head is looking forward, chest is out, back neutral and core tight. With knees behind toes.

Return to standing position with a slight bend in knees.

Repeat the process in a fluent tempo.
6)

SQUAT JUMPS
This is a great pre requisite warm up to execute before any kettlebell exercises, to fire up the glute muscles. Glutes play a huge role in utilising the hips in preparation for kettlebell training.
From the squat position as above. Bring both arms up to shoulder level out stretched.

In one movement simultaneously, drive both the arms down, and jump vertically.

On landing, make contact with the floor on the balls of your feet, and roll back onto your heels.

At the same time push your backside back, and bring the arms back to shoulder height position. Keeping your chest out head up and core tight, throughout the exercise.

Perform in a continuous and rhythmic motion.

Push through toes on way up, and land as light as possible.
7)

ALTERNATING LUNGES
From a standing position, feet shoulder width apart and hands across chest.

Step forward with the left leg into a lunge position. Making sure your head and back are in neutral positions, core is tight. And knees are not over toes.

Immediately on contact with floor. rebound back to starting position, but with a slight lean forward. Back straight.

Repeat with right leg.

Continue alternating between left and right leg in a smooth rhythmic fashion.

Be as light as you can on contact with the floor.
5 x L/R Alternating Feet
Complete Upper Body Warm Up.
This movement is very simular to 'The Forward Travelling Beast exercise in Animal Flow.
Adopt a position on all fours.

Back neutral, Core tight,

Shoulders directly under your hands

Knees about 1″ off floor just in front of hips

Head naturally alligned.

Proceed to move your left hand forward and at the same time your right knee (contralateral movement). Keep both within a distance of 18″ of each other.

Repeat with right hand /knee

Keep your hips square throughout.
10 movement F/W and B/W x 1
Adopt a low press up position, with arms bent.

Simultaneously move both your left hand and your right knee forwards, so your right knee is touching your right elbow. Your left hand out in front of body.

Repeat the process with opposite limbs keeping body as low as possible with hips square.

Keep core tight.
10 crawls forward and backwards x 1
NOTE:
If your session is Strength based, the warm up should be shorter and lower intensity, to reduce fatique and conserve energy when attemping heavier kettlebell exercises.

MUSCLE ACTIVATION
Muscle Activation exercises help fire up underactive or dormant muscles that play an important role in stabilizing the Prime Movers (main functional muscles).

These exercises work in very much the same way that a car battery sends electrical impulses to the engine through each individual spark plug.

Muscle Activation often tends to be neglected when it comes to general warm-ups, and prior to performing kettlebell exercises. But these should be included without fail in any training programme.
SUPINE DOUBLE LEG BRIDGE (GLUTES / HIP FLEXOR)
10 reps

SUPINE SINGLE LEG BRIDGE (GLUTE / HIP FLEXOR)
Lie on your back with one knee bent and the other leg straight and elevated at about 45°. Actively tense your glute muscle and extend the hips upwards as far as you can by pushing through the heels.
10 reps L/R
SUPINE ALTERNATE STRAIGHT LEG RAISES

INSIDE LEG RAISES (ADDUCTORS)
Lying on your left side, place the top leg (right) in a figure of 4 position over the bottom leg (left) with the sole of the (right) foot flat on the floor. Proceed to elevate the(left) bottom leg about 6" – 8"
10 reps L/R
PRONE ALTERNATE ARM / LEG RAISES (HIP FLEXORS / HAMSTRINGS / GLUTES
Face down with arms and legs extended, alternate lifting opposing legs and arms simultaneously.

Keep hips square, and press firmly into floor

Squeeze Glute muscles tightly and keep head in neutral position.
10 reps L/R
FIRE HYDRANT LATERAL (HIP / GLUTE MEDIUS)
Kneeling on all fours with your hands underneath the shoulders, and head naturally aligned.

Lift either leg to the side, with the knees bent and your heel touching your butt, while maintaining body allignment with no twisting.
5 – 10 reps L/R
FIRE HYDRANT / FORWARD /BACKWARDS CIRCLES (HIP GIRDLE)
Adopt the same starting position as the previous Fire Hydrant exercise, but this time circulate each leg first backwards and then forwards.

Keep back neutral and alligned throughout
5 – 10 reps L/R
DYNAMIC STRETCHES

Dynamic Stretches involve moving the limbs through a complete range of motion in a controlled fashion, gradually increasing the movement over a series of repetitions.
This utilises the Golgi Tendon which acts as a receptor, or gauge for regulating tension and passive stretch within the Muscle Spindle Proprioceptor. This stimuli is responsible for the muscles eventual lengthening reaction.
FRONT LEG RAISES

Starting at a low position, proceed to swing left leg upwards for a count of 15 reps, before switching legs and repeating.
Start low and gradually increase your Range of Motion (ROM) every swing / kick
COSSACKS (BENT KNEES)
Adopt a Plie Squat position with feet at 45° and wider than shoulder width

Bend left leg while pushing knee with hand inside of knee outwards. To stretch and open up hips.

Repeat right side, and continue between left and right in a continuous motion.
10 reps L/R (20 reps)
COSSACKS (STRAIGHT LEG)
Adopt a Plie Squat position with feet at 45° and wider than shoulder width.

Bend left leg while pushing knee with hand inside of knee outwards, while straightening right leg with toes pointing upwards. To stretch and open up hips.

Push the bent leg knee outwards, and make sure knees track feet.

10 L/R (20 reps)
HIP AND SHOULDER MOBILITY

It goes without saying that most kettlebell exercises require you to have very good hip and shoulder mobility. Especially when performing more advanced moves.
Below are 3 great mobility exercises that accomodate this conditioning.
PLIE SQUAT SINGLE KNEE PUSH OUT
Adopt the plie squat position with knees tracking feet. Head up and chest out.

Push your right elbow inside of right knee, and begin pressing the left knee outwards with your left arm / hand with elbow pointing up.

Repeat opposite side
5 reps L+R
NOTE :
Place the non pushing hand palm against opposing side of chest to increase the leverage of stretch.
PLIE SQUAT VERTICAL ELBOW STRIKE AND ARM EXTENTION
This is a excellent mobility warm up, especially in preparation for more advancedmovements. eg: 'The Windmill' or Bent Press kettlebell exercises etc.
Adopt the plie squat position with knees tracking feet, head up and chest out.

Pressurise and push out the inside of your right knee with your right elbow, and rotate your body to the left in an upwards motion.

Drive your left elbow upwards as far as it will go, before extending your left forearm so your whole arm is now 90°
5 reps on each side
WARM UP KETTLEBELL EXERCISES

GOBLET SQUAT
This is one of the best kettlebell exercises for mobility. Not only to help promote vertical allignment of the spine through opening out the hip. But also to utilise the core more efficiently, through using Intra Abdominal Pressure. In the eccentric and concentric phases of the squat.

Hold the kettlebell at the base of the handles with both hands at head height and elbows tucked into ribcage.

Take a deep breath into your stomach and exhale through your teeth as you descend into the squat position. Keeping your spine neutral and engaging your core.

Go down as far as you can and then exhale fully allowing your hips to lower further down with knees pushing out.

Once in the full Goblet Squat, pressurise and press out the insides of both knees with both elbows.

Allow the forearms and kettlebell to fall forward while leaning back to counteract any forward momentum of the body.

Maintain a vertical allignment of the spine, while opening hips for about 30 seconds

Inhale deeply, engage core and glutes and proceed to drive up from squat position keeping your spine neutral and head naturally alligned.
HALO
General warm up for the Shoulder Girdle
Hold the kettlebell at the base of the handles with both hands at head height.

Rotate your arms to the right so the kettlebell base is facing forwards at the side of your head.


Rotate another quarter turn clockwise, so the base is now facing upwards

Rotate a quarter a of a turn clockwise yet again so the base is now facing forward

Rotate back to start position with base at bottom.

10 reps clockwise and anti clockwise
DOUBLE HAND PRESS
General warm up for the Deltoid, Tricep and Core muscles prior to kettlebell exercises.

BODY WRAP
Conditions the Main Core Area in preparation for all kettlebell exercises.
Hold the kettelbell in the corner of the handle with your right hand down by your hip

Gently swing the kettlebell round your torso as far as you can comfortably, before returning in the opposite direction. Again as far as you can comfortably.
5 reps L+R (Both swings in any one direction = 1 rep)